Owning an aquarium can be such a relaxing experience. When we fill out tanks up with beautiful fish and sea creatures, it becomes an enjoyable hobby to take care of our fishy friends. We can just sit back and enjoy listening to the bubbling of the filter and watch the fish swim on by, looking at them under their lights. Plus, with the tank, you have all the say of what goes into it. You can essentially "landscape" it the way that you want to.
From statues to little rock caves, there are so many items that can be put into an aquarium. Decorating it can become a fun and enjoyable experience all its own, what with all the different rocks and sand there is on the market! We reviewed dozens of aquarium decorations to identify the best of the best. We looked at features like sturdiness, how fish-friendly they are, price and more.
The Penn-Plax SpongeBob Aquarium Ornament stood out among the rest because of its sturdiness and weight. This is not some ornament that will be floating away when you put it into the fish tank. It is non-toxic and is easy to clean as well.
The 5 Top-Rated Aquarium Decorations
*Ratings are from Amazon at the time of publication and can change
Best Aquarium Decor Overall: Penn-Plax SpongeBob Aquarium Ornament
You have seen this aquarium ornament on television, no doubt. This fish tank decoration is one that kids and adults alike will love. The Penn-Plax SpongeBob Aquarium Ornament is quite possibly the cutest piece of aquarium decor that we have seen. However, aside from that, it comes highly recommended. There are many reasons for that. The officially licensed decoration is a solid one, one that has some heft to it. It is made with durable resin. That way, you won't have to worry about your decoration floating away and confusing the fish in the tank.
The ornament itself is six inches in height, and most small to medium-sized fish can easily fit inside of it. It is made of non-toxic materials, so you do not have to worry about your fish. When it is time to clean the tank, simply grab the decoration and wipe it down and rinse it with warm water. This decoration is small enough that not only would it fit in a fish tank, but also a fishbowl to add some color and make it vibrant.  If you want to bring more of SpongeBob's world into your aquarium, you can. They sell a whole line of officially licensed products to decorate your tank with.
Penn-Plax SpongeBob Aquarium Ornament Key Features:
Weighted
Easy to clean
Non-toxic
Small size
Best Aquarium Rock Cave: Marina Decor Polyresin Cave
Did you know that even fish can get bored sometimes, too? That is why we put items like little caves and logs in their aquariums for them to swim into, around and under. The Marina Decor Polyresin Cave is the perfect addition to any fish tank. They are actually made to look just like real caves that you would see underneath the water. It is quite a large decoration, so it would do well in a fairly large fish tank, where your fish will be able to swim in and out of it.
The cave itself is primarily gray and white with green highlights. It is safe and made up of non-toxic materials, so it will not affect your tank's water quality at all. If you are looking for something to add to your fish tank that will make it more realistic, this cave is the best option to do that with. It even features a plastic sword plant that makes it look more lifelike. Plus, your fish will no longer be bored, as they will have something to swim in, out and around.
Marina Decor Polyresin Cave Key Features:
Looks lifelike
Non-toxic
Large size
Features plant for extra decoration
Best Budget Aquarium Decor: CousDUoBe Artificial Aquatic Plants
If you are looking to add some color and character to your aquarium, the CousDUoBE Artificial Aquatic Plants are just the thing that will do it. They are created with ceramic bases, meaning that they will not be floating around your aquarium or fishbowl. Because it is ceramic, it does not affect the quality of the water that is in your tank. With a whopping 11 different styles, you can add all kinds of colors for your fish to enjoy. The plant's height varies between 12 to 16 centimeters.
You will receive 11 totally different plants, meaning that you won't have any doubles in your tank. You can create a beautifully colorful world with these amazing plants! The plants themselves are made of high-quality plastic and sway along with the water, to make it more lifelike. There is absolutely no metal which means no rust for you to worry about harming your fish. The plants are easy to clean, as all you have to do is rinse them off and wipe them clean. These plants give off an almost ethereal glow, so they will make your tank burst with color, which also helps to stimulate your fish as well.
CousDUoBE Artificial Aquatic Plants Key Features:
Variety of colors
Easy to clean
Different styles
Ceramic bases
Best Large Fish Tank Decoration: SLOCME Resin Castle Decoration
Let's face it, we love our fish just like any other pet. So why not treat them to a royal castle like the SLOCME Resin Castle Decoration? This simulation of an ancient castle is made of eco-friendly resin and is not toxic to your fish. Unlike some other aquarium decor, this will not fade over time. Your fish will love swimming in and out and around this castle. It is safe for both freshwater and saltwater tanks. With a weight of 1.1 pounds, it is the appropriate weight for a decoration, and you will not have to worry about it floating.
The decoration itself is easy to clean and does not need to be cleaned too often, only when you decide to clean your fish tank. Then, all it takes is a little bit of water and a damp cloth to clean it. With its size, it is suitable for tanks from five up to 150-gallon tanks. Really, it is the perfect size for any aquarium. It is sturdy and ready to have a home in your aquarium. It looks lifelike, beautiful and realistic and is the perfect addition to your fish tank.
SLOCME Resin Castle Decoration Key Features:
Made of eco-friendly resin
Non-toxic
Safe for freshwater and saltwater tanks
Lifelike
Best Fish Bowl Decoration: GloFish Treasure Chest Ornament
If you are just looking for a little decoration for your fishbowl, then the GloFish Treasure Chest Ornament is a wonderful addition to any water environment. It is a relatively small decoration, standing at 2.2 inches by 3 inches by 3.1 inches. They are perfect for a GloFish environment ideally. However, they will work wonderfully in just about any aquarium environment. They are brightly colored and give your fish a little bit of a fun environment to play in. They can have fun just swimming around it!
It is made with non-toxic materials, and your fish's safety is always the primary concern when creating these decorations. Smaller fish can enjoy swimming into and out of the cleverly placed cave that is in the treasure chest. If placed into a fluorescent GloFish aquarium setup, the treasure chest will change from brown and yellow to beautiful purple and bright yellow, adding a huge pop of color to your fishbowl. This is most definitely a fun and rather cool looking decoration to put into your aquarium.
GloFish Treasure Chest Ornament Key Features:
Small size fits in any aquarium
Fluoresces under GloFish light
Made with non-toxic materials
Has a cave for fish to swim into
Who Should Buy Aquarium Decor
If you have a fish tank in your home, and you are just looking to make the aquarium a bit more lively, you can purchase decorations for your aquarium. Perhaps it may have turned into a hobby for you, and you want turn your aquarium into a beautiful underwater landscape. You are on the hunt for some of the best aquarium decorations out there, and you want it to look amazing. This guide is for you.
Maybe you have a friend who is big into aquariums and has one in their home. A great gift idea is a decoration for their fish tank. Just make sure that you know the size of their tank, first. Or it could be that your children just got their first fish and you want to make sure that their new fish friend has a  lovely home to live in. Aquarium decorations will make it look amazing.
Important Features To Consider
Aquarium decor should be safe for your fish, be sturdy so it doesn't float away and possibly injure your fish, size, and help with oxygenation in the tank. Here's what to consider when selecting decorations for your aquarium.
Non-toxic. This is most definitely the first feature to consider when purchasing a decoration for your aquarium. Some companies will use cheap plastic or metals. These can end up seeping into the water of the fish tank and can possibly harm your fish. So it is important to find decor that is created using materials that are non-toxic. There are plenty of decorations that are made from different materials like ceramic, safe plastics, and other various materials that are considered safe for your fish to be swimming around.
Sturdiness. Water makes everything buoyant. As such, when choosing a piece of decor for your fish tank, you are going to want to choose something that is heavy enough that it doesn't go floating around the aquarium and possibly injure your fish. Look for pieces that are made with sturdy materials. These can include ceramic, glass, heavy rubber and even in some cases, heavy plastic. If you are not sure that the piece you have for your aquarium will float around or not, simply do a test by putting it into a deep bowl of water. If it sinks quickly and doesn't move, then you are all good to use it in the aquarium.
Oxygenation. There is no argument that with a fish tank, the fish need oxygen. There are various types of decorations that are actually disguised as bubblers, which can add oxygen to your fish's tank, constantly giving them fresh and clean oxygenated water to swim around in. Not only do they help your fish, but the sound of them alone can be a relaxing one to listen to. Sometimes even fish tank filters can be disguised as aquarium decor, so you have plenty of choices.
Frequently Asked Questions
What types of aquarium decor are there?
When it comes to aquarium decor and fish tank decorations, the options abound. From plastic plants to ceramic caves, there is a multitude of options that you have for when it comes to decorating your fish's home. Some of the more popular options include fake plastic plants, caves that your fish can swim in and out of, bubblers and synthetic coral. Then, you also have the option of organic, but dead decorations like driftwood, shells, and dead coral. It also all depends on the type of water that you have in your fish tank. If you have a saltwater tank, then you need to use specific decorations, like ones that are made with synthetic rubber.
How can I decorate my fish tank?
You can decorate your fish tank however you wish to. If you would like to go minimalistic, you can opt for one to two small plastic plants that your fish can swim around in. Alternatively, you can also go a little more intricate when it comes to your aquarium. The choice is entirely up to you on how you decorate your fish tank. There are so very many different items out there that you can decorate your fish's home with. Depending on the type of water that you use, you can even opt to use living items, such as coral, plants, and algae. Just make sure that you know what type of water your tank uses so that you can find the right decorations for it.
Can you put plastic toys in a fish tank?
Plastic in fish tanks is most generally safe. That is if they are made with non-toxic materials. A good rule of thumb is that if a plastic aquarium decoration is graded as food-safe, then it is generally safe to place it into an aquarium. Another thing to look for in plastic for your aquarium is if it is a sealed plastic decoration. Unsealed decorations can leach chemicals into the water that can be potentially harmful to your fish. If you have questions about whether or not you can put a certain plastic decoration into your fish tank, you should contact your local aquarium supply store. They should be able to steer you in the right direction when it comes to whether or not you can put a certain plastic in your fish tank.
Can you put rocks in a fish tank?
This depends on what kind of water is used in your fish tank. If you have a freshwater aquarium, it is best to use rocks that are not high in calcium. Some great freshwater-friendly rocks include quartz, shale, basalt and lava rocks. When it comes to saltwater tanks, rocks like petrified coral, live rocks and dried reef rocks are the best options to choose from.
Other Aquarium Decor We Reviewed
We looked at 20 other fish tank decorations. Even though they didn't make our 5 best aquarium decorations list, they're the best of the rest and each is still a great option for your fish tank. The information you'll need to compare each one is included with the listing.
Fish Tank Plants
These plants are BPA free. Not only that, they are totally maintenance-free, since they are plastic.
Key Features:
Variety of 30 different plants to choose from
Safe for any aquarium environment
Weighted
Cost: $20
CNZ Lifelike Underwater Plastic Plant
This aquarium plant is approximately ten inches high. It looks lifelike so your fish will enjoy swimming around it.
Key Features:
Made of plastic and ceramic
Weighted
Provides hiding place for fish
Cost: $7
These plastic plants are totally environmentally safe. They are low maintenance decorations.
Key Features:
Come in a variety of sizes
Ceramic bases
Made with non-metallic materials
Cost: $12
Pietypet Artificial Aquatic Plants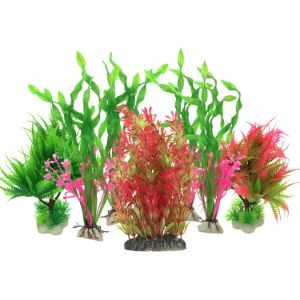 This set of plants fits up to a 20-gallon fish tank. It comes with approximately seven pieces.
Key Features:
Heavy pedestal at bottom
Made with non-toxic materials
Provides fish with shelter
Cost: $15
Tacobear Artificial Plastic Plant Green Plant
This lifelike plastic plant is pollution-free and harmless to your fish. It is 18 inches long and perfect for fish to swim around.
Key Features:
Quartz ceramic base
Lifelike
Adds natural scenery
Unique Fish Tank Decorations
Crystalsuncatcher Handmade Glass Octopus
These beautiful handblown octopuses would look right at home in your aquarium. Each one that is created is unique.
Key Features:
Completely unique
Safe for aquarium
Small size
Cost: $11
NICREW Aquarium Volcano Ornament
This beautiful decoration actually acts as a bubbler, adding oxygen to the fish tank. The multi-color LED lights add flare and charisma.
Key Features:
Made of safe, non-toxic resin
Three suction cups on air pump disk
With an air pump, it will bubble
Cost: $19
Penn Plax Battleship Aquarium Fish Tank Decoration
If you are going for a shipwreck theme, this is a wonderful addition to your fish tank. It can be used in both salt and freshwater tanks.
Key Features:
Made of non-toxic resin
Areas for fish to swim in and out of
Can be used in any kind of water
Cost: $10
Add a beautiful pop of color with this resin decoration. It is made of high-quality resin.
Key Features:
Weighted bottom
Safe for fresh or saltwater tanks
Color won't fade
Cost: $20
Uniclife Glowing Effect Artificial Gooseneck Coral
This is most definitely a colorful addition to any fish tank. It uses actinic lighting to glow.
Key Features:
Made with eco-friendly silicone
Weighted bottom
For both freshwater and marine aquariums
Betta Fish Tank Decor
These leaves are great for your betta to rest on, munch on, lay eggs on and more. They can keep fish more active.
Key Features:
Leaves have healing properties
Easy to use
Helps scales to get firmer
Cost: $10
This resin log is safe for all aquariums, and it gives your betta a place to rest. It naturally blends into aquatic environments.
Key Features:
Designed for both fresh and saltwater aquariums
Provides cover and security for your fish
Made of non-toxic silk material
Cost: $12
SunGrow Artificial Aquarium Plant
This plant creates a natural play space for your betta fish. It also serves as a resting place for the fish as well.
Key Features:
Resin-weighted rock base
Easy to maintain
Non-toxic
Cost: $8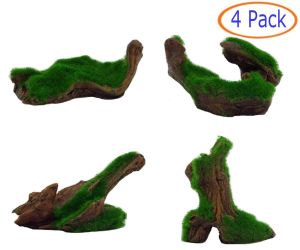 These beautiful resin logs lend a natural look to your betta's environment. It makes a great hideout and breeding ground for them.
Key Features:
Made with 100% natural resin
Best used in medium or large tanks
Provides shelter
Cost: $15
Zoo Med Betta Bed Leaf Hammock
This is a natural-looking decoration for your betta to comfortably rest upon. It attaches with a suction cup.
Key Features:
Allows betta to rest
Leaf is bendable
Lifelike
Aquarium Statues
Ebros Steampunk Giant Kraken Octopus Statue
Steampunk enthusiasts will love the way this octopus looks in their aquarium. It is made of composite resin.
Key Features:
Hand-painted
Hand polished
Fun design
Cost: $28
Evergreen Simulation Roman Column Ornament
This is a fun decoration for your fish to swim around. It has a flat bottom.
Key Features:
Weighted bottom
Easy to clean
Safe in fresh or saltwater aquariums
Cost: $17
Niteangel Ancient Easter Island Stone Head Aquarium Ornament
These statues are made of durable and non-toxic resin. Create a mysterious look in your aquarium with them.
Key Features:
Suitable for fresh and saltwater
Can fit in any size aquarium
Non-toxic
Cost: $11
Penn Plax Little Mermaid Aquarium Ornament
Any Little Mermaid fan will love this ornament that adds a pop of color to any aquarium. It is finely detailed and would make a beautiful addition to any fish tank.
Key Features:
Hand-painted
For freshwater and marine tanks
Provides shelter for fish
Cost: $4
Underwater Treasures Parthenon
This is a highly realistic aquarium statue. They are handcrafted.
Key Features:
Non-toxic
Great for fresh and saltwater aquariums
Hand-painted
Cost: $21