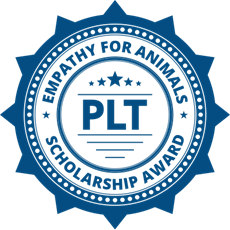 Pet Life Today, in conjunction with RKT Publishing, LLC, is excited to announce the 2017-2018 Empathy for Animals (EFA) Scholarship Award for Veterinary Students.
This is a new scholarship that will be awarded annually to undergraduate students enrolled in veterinary or animal science studies in the amount of $500.
According to Ken Lyons, a Pet Life Today co-founder, "One of our goals at PLT is to raise awareness of animal cruelty and promote the public understanding of animal empathy and compassion. The EFA Scholarship is one of the ways we're able to advance this mission, while also helping the next generation of animal advocates and future veterinary professionals reach their academic goals."
The scholarship is open to students in good academic standing, with extracurricular community experience or demonstrated passion for animal advocacy and an interest in working to fight animal cruelty.
"We're looking for applicants who want to be veterinarians or work in the animal sciences field, who work hard in school and have a track record helping educate people about the mistreatment of animals," says Lyons.
To get more information about the award or apply, go to EFA Veterinary Scholarship Award